The drive lasted more than four hours, as the road gradually deteriorated from asphalt highway to dirt road to rocky track.
Before reaching the remote village, Balhaar and the rest of the Bible distribution team pulled off the road, switched off the ignition and waited.
When the group saw the familiar face of a local pastor approaching a short time later, they unloaded their precious cargo and followed the pastor on an hours-long trek to a predesignated location in the jungle. Upon reaching the distribution site, they were greeted by local Christians eagerly awaiting their first copy of the Bible in their own language.
The believers, some of whom had walked as far as 40km, joyfully received their Bibles and some basic instruction in how to study God's Word. As they departed, one or two families at a time, they tucked their prized gifts into packages, baskets or bags to keep them hidden and safe on the journey home.
A Bible of Their Own
Since the year 2000, Balhaar has helped plant more than 200 churches in parts of India marked by the rise of Hindu nationalism and has helped train more than 100 other Christian workers to do the same. For the past seven years, he has distributed thousands of Bibles in these hostile areas, delivering more than 5,000 in 56 villages during 2022 alone. The majority of those who receive Bibles belong to house churches. These believers face harsh consequences from Hindu extremists if discovered actively practising their Christian faith, so they meet secretly in the jungle and carefully hide their new copies of God's Word.
For many Christians in remote villages in India, access to Bibles is limited by cost and availability. With no Bible of their own, hearing God's Word is possible only during gathered worship. "Sometimes the pastor is the only person with a Bible," Balhaar explained. "They just keep in their heart what they heard from the pastor, and the whole week they survive on that Word. They need to wait for another Sunday to hear the Word of God again."
Manthan, one of the believers who trekked through the jungle to receive a Bible from the distribution team, had never owned a Bible in his many years as a Christian. "Along with my family, I would attend church after travelling three hours deep in the forest," he said. "Since we don't have the Bible, we could only hear the Word at church but had no access to it at home or in my village. I had a strong desire to teach the Bible to my family as well as other young folks at my village, but I could not due to lack of having a Bible for myself."
Another Christian, Krish, had long worried that his children would not grow up to be faithful followers of Christ if he could not teach them from God's Word at home. "Two of my children and I travelled together to get Bibles," he said. "We were overjoyed to receive the Bibles in our language for the first time. We started daily prayers and nightly devotions.
Not every Bible distribution goes smoothly, however. Messages must be relayed back and forth between church members, pastors and the distribution team to confirm a safe meeting time and place, and to ensure that information about the Bible distribution has not leaked to anyone who might oppose it. "Sometimes we even reach a particular village and then get a message that the Bible distribution is cancelled," Balhaar said. "We just turn around and wait for news of another opportunity."
---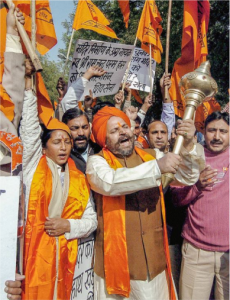 Empowered Against Opposition
Opposition to Christians has increased in India during the past decade. Under Prime Minister Narendra Modi, who took office in 2014, the Hindu nationalist organisation Rashtriya Swayamsevak Sangh (RSS) has seen a 20% increase in membership; the group's emboldened base seeks to forcibly bring India under Hinduism. In addition, nine Indian states have passed anti-conversion laws that impose heavy penalties on anyone convicted of proselytising Hindus and on Hindus who convert to another religion.
Amid this opposition, Christians in India are keenly aware of the need for Bibles. "It feels like time is running out to place Bibles in the hands of those who want them before the window of gospel preaching and churches operating [openly] is closed," Balhaar said. In support of his concern, he cited an incident of a pastor who had been martyred by Hindu radicals just days earlier. Balhaar himself was physically assaulted after his last trip to distribute Bibles.
"We get opposition," he said, "but I can say that persecution every time gives the result of church growth. The devil is trying to stop [us], but somehow people are attracted to the gospel. Of course, we have our fears and experience threats, but God is giving us more power.
"They cannot eradicate Christianity from India, I am sure," he continued. "They cannot take Jesus from our hearts." He said that while persecutors may try to prevent Christians in India from receiving physical Bibles, Christians "can keep [the Bible] in their hearts".
---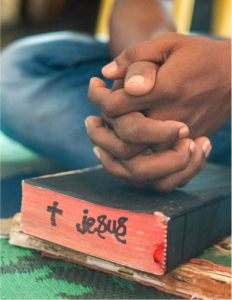 The Word Bearing Fruit
Since receiving the Bibles from the distribution team, local believers have seen how powerful even a single Bible can be in growing the church. "One Bible placed in my hands gave birth to a house church in my village," Manthan later said.
Krish, too, expressed how having Bibles is changing his family and community. "Neighbouring houses are listening to the songs as well as the Word of God as we are reading together," he said. He no longer worries as much about his children's discipleship being interrupted while they are away at school. "Now they have Bibles with them," Krish said, "which helps them to devote themselves to God and His Word."
Having God's Word close at hand helps Christians remain faithful in areas hostile to the gospel. "Just pray that we will be strong enough and faithful enough to persevere for the faith in Jesus Christ, for the gospel's sake," Balhaar said. "If God is for us, who can be against us?
"I strongly believe that God is for us," he continued, referring to Romans chapter 8, "but the challenge for all the Christians in the world is whether we stand for God, whether we can stand for God's truth, whether we can stand for God's love. That is the need of the hour."