By age 25, Abdul had achieved his goal of becoming an imam. Around the same time, he also started teaching Arabic, the language of the Koran and other Islamic texts, to young students in Bangladesh.
After studying and teaching the texts for the next 25 years, he found himself attracted to the prophet Isa (Jesus), who is mentioned in the Koran. Though he had never read a Bible, Abdul felt there had to be more to Jesus than he had learned through his Islamic studies.
One night while riding his bike, Abdul, who was 50 at the time, encountered what appeared to be a bright light for several minutes
and was compelled to stop his bike beneath a tree. Then he heard a voice speak to him. "It was clear that someone was talking to me," Abdul recalled. "I stood there and didn't see anything. I wasn't afraid, but I stood there and listened."
Abdul then heard the voice say, "Don't go down this road; take this other road." Confused, he simply rode his bike home.
Sometime later, while walking alone at night, he heard the voice again. "There are so many prophets, so many people gone," the voice said. "But I am alive and I am coming again. I am the light; I am the way, the truth and the life."
Though he felt like he was going mad, Abdul realised that Jesus had been speaking to him. That's when he began to follow the spiritual road towards Christ, a decision that led to a debate with his family a few nights later about the importance of Jesus.
"Nothing else was important in my life," he said, "not my family, my property. It was all nothing. My only desire was to know more about Jesus. In my heart, I could talk to Him."
Abdul remained a leader in his mosque for three more years, until one day he met a local pastor. The pastor shared the gospel with him, gave him a New Testament and answered his questions about Jesus Christ. Abdul was soon baptised, and when he heard about the Great Commission he made a commitment to obey.
"When I finished my baptism," he said, "I went to my village and shared the gospel."
Creating Tension
Abdul first shared the gospel with imams he knew, but they grew angry at what he was telling them. Finally, one day the imams  requested a meeting with Abdul and his family at Abdul's house. Not surprisingly, they asked Abdul why he had rejected Islam to follow Jesus Christ.
Abdul told them he could no longer follow Mohammed, explaining that he and all of them were sinners in need of a Saviour. Abdul's wife, son and younger brothers rejected him; his older brother took off his sandal and hit him with it, a deeply offensive gesture in Islamic culture; and Abdul's nephew called for harsher punishment.
"Please kill him because he is now a problem for our family!" Abdul's nephew said. "When we go to the bazaar, people will say, 'Your uncle is a Christian.' This is shameful to our family!"
The nephew then left and returned later with some bamboo sticks. Abdul's family watched as he beat Abdul with the sticks, breaking both of his legs. After spending many days in the hospital and taking time to heal from his injuries, Abdul relocated to another village.
Unwelcome
When the nephew learned of Abdul's move, he informed members of a radical Islamic group, who soon appeared at Abdul's door. They took him to their headquarters and put him in a small room where, they told him, he would remain until he abandoned Christianity.
"Jesus is in my heart," Abdul replied. "How can I kick Him out of my heart?"
One night as Abdul was sleeping on the floor, two men with knives entered the room and demanded that he leave Christ. "So many prophets, like Mohammed, have come, and everyone has gone to the grave," Abdul told them. "Only Jesus Christ is in heaven. He will come again, and He will keep those of us who are following [Him]. I believe He is our Saviour and we can go to heaven with Him."
Putting a knife to Abdul's chest, one of the men threatened to kill him. "No problem," Abdul said confidently. "I am ready." Frustrated
by their inability to intimidate Abdul, the two men left the room. Then, when Abdul noticed that his guard was asleep, he too left the
room — escaping from his Islamist captors.
Six months later, the group's leader showed up at Abdul's house, paralysed on his right side. Attributing the paralysis to his
mistreatment of Abdul, the man was full of regret. "Please, forgive me," he implored Abdul. "I have done wrong."
Abdul forgave the man, and a few months later he heard that the man had been healed.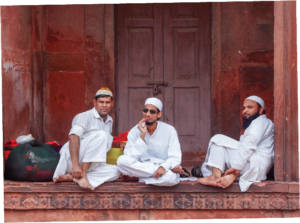 Continuing the Work
Abdul still struggles to walk because of the beating he suffered from his nephew, but he continues to proclaim the gospel to Muslims in
his village. Despite the emotional and physical suffering he has endured, he said the persecution has only helped him grow closer to Christ. "My faith is now stronger," he said.
Abdul encourages all of his brothers and sisters in Christ to engage in the Great Commission.
"Those who believe in the Lord Jesus as their Saviour have a responsibility to share the gospel with others," he said. "It is important … to share our faith with others."
He asks only that people pray for his health and for his continued ability to share the gospel. "When I physically die, I'll rest," he said.
"I have no intention of stopping otherwise."